Quick Response Repair Garage Door - Replace a Garage Door - Sugar Land TX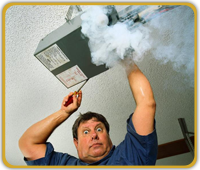 Your garage provides you with a safe place to park your vehicle. It also makes it convenient to come home even in heavy rain and without a single drop of rain falling on you.
But if your door is broken and you need garage door repair we can provide this service to you. Garage Door Sugar Land TX makes it possible to restore the conveniences that you are used to. If you need emergency garage door repair we are only a phone call away and can provide this service to you in a short time. Do you need assistance after losing your door's functionality? Call us to help you at any time.
>> Cables, Springs Repaired
When you need garage door cable repair, we have these parts and within a short time we can install them for your convenience. You will like the speed at which we report to your home to do the job. You will like it even better when your repairs are finished and you regain the use of your garage.
Our technicians are not only skilled in making garage door repair spring, they also know how to handle clients since we train them in customer service. Besides, they make sure that all your needs are met and your questions answered.